Welcome to ATOMRC official website
No result found for your search.
Description
Shipping
Reviews
Radio Master BOXER M2 2.4G ELRS, EdgeTX Operating System, Available with ExpressLRS and 4in1/CC2500 Version, FCC Version and EU LBT Version are Available, Powerful STM32VGT6 Processor with 1MB RAM, Compact Design with Excellent Ergonomics.

Features:
Available with built-in ExpressLRS or 4-in-1/CC2500 MPM RF modules
Featuring a powerful STM32F407VGT6 with 1MB Flash and 192KB RAM
Preinstalled EdgeTX firmware
Internal ELRS module capable of 1,000Hz refresh rate
QC3.0 fast charging support 2.0A MAX
Compact design with excellent ergonomics
New low-profile latching SE switch and momentary SF switch
Oversized battery compartment- Space for a 2S 6200mAh pack, up to 20-hour duration (Batteries not included)
Full sized V4.0 Hall effect gimbals as standard, upgradable to AG01 CNC Hall effect gimbals
Standard JR module compartment
Internal module cooling fan built in (ELRS version)
RadioMaster standardized button layout
Versatile 6-position switch for flight mode access
Adjustable and Removable T-shape Antenna
Industry first fabric handle for improved portability
Changeable, ergonomic grips
Redesigned SD card slot with pre-loaded SD card included
External module power slots in battery cover
RadioMaster signature carry case and gimbal protector are included as standard to ensure your radio stays safe while on the move


Specification:
Item: BOXER Radio
Size: 235*178*77mm
Weight: 532.5g
Frequency: 2.400GHz-2.480GHz
Internal RF Options: CC2500 multi-protocol / 4-in-1 multi-protocol / ELRS 2.4GHz
Supported protocols: Module dependent
Voltage Range: 6.6-8.4V DC
Radio Firmware: EdgeTX (Transmitter) / Multi-Module (RF module) / ELRS
Channels: Max 16 channels (Receiver dependent)
Battery: 7.4V 2-cell Lithium-Polymer / Two 3.7V 18650 Lithium-Ion cells (batteries not included)
Display: 128*64 Monochrome LCD display
Gimbal: High precision 4.0 Hall gimbals as standard (AG01 Optional)
External module: JR/FrSKY/Crossfire compatible
Upgrade Method: USB/SD card & EdgeTX Companion PC software

Package Includes:
1 * BOXER Radio
1 * Signature Carry Case
1 * T Antenna
1 * USB-C Cable
1 * Gimbal Protector
1 * 1.5mm Allen Key
2 * M4*4 Screws
4 * Low Tension Springs
1 * 18650 Battery Tray
1 * Stickers
1 * Manual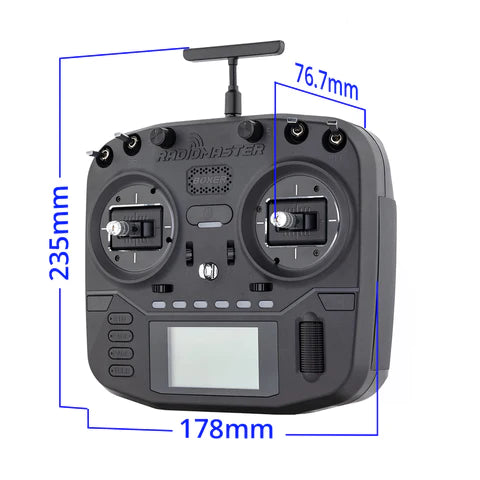 Payment Methods
We accept PayPal, Credit Card. If you are unable to pay for the above, please contact us.
Order Status
Once your order ships, you will receive a shipping notification email. This email will contain your tracking number and a link to check the status of your order. You can also check the status of your order by going to your account page.
Warehouse located
We have CN, USA and EU warehouse. 
Shipping Charges
There are different shipping methods for your chioce, depending on yourself. Detailed shipping costs and chioces can be checked at the checkout page.

Free shipping on orders over $99. If your order value is under $99, you might be charged $10 for standard shipping(arrives in 7-15 days), or other shipping methods.

For Fix Wing RC FPV fixed wings product, we provide different shipping fee for Expedited shipping(arrives in 10-20 days). The specific shipping cost is subject to the checkout page.

For all orders' package, we handle packages by DHL, UPS, EMS, our special shipping line and so on, usually takes about 7-20 days for delivery.
Shipping Time
Note: It's the holidays now, from 09-29-2023 to 10-06-2023, about 8 days. so there is a delayed shipping for orders that placed during our holidays. Thanks for your support and waiting in advance.
Most orders will be shipped within usually 1~2 working days , but for special holidays, 4 business days might be needed.
The total processing time may be affected by the stock status of individual items, national holidays, etc.
For all orders' package, we handle packages by DHL, UPS, EMS, our special shipping line and so on, usually takes about 7-20 days for delivery.
*Please note that we only process orders on business days (Monday-Friday).

*Total Delivery Time=Processing Time+ Shipping Time

Once we receive your online order we will send you a confirmation e-mail and you will receive a tracking number once the order has been shipped and is on it's way to you.
If you have any questions about any orders in transit, please feel free to contact us. We care about you so much and we're doing our best to catch up!

Please Note:
Orders placed on Friday Afternoons, during weekends or National Holidays will be processed the next business day.
During holiday periods, such as Thanksgiving, Black Friday and Cyber Monday, Christmas, and Easter, orders may be subject to delay.
Please allow a few additional business days for your order to be processed and dispatched.
There are estimated delivery time only, so can not guarantee an exact delivery time.
Thanks for understanding and have excellent shopping with ATOMRC!