Welcome to ATOMRC official website
No result found for your search.
Description
Shipping
Reviews
The TX12 has become the go-to product for pilots who seek a powerful, dependable, and endlessly upgradable open-source radio in a small form factor.

Working with the R/C community and open-source partners, RadioMaster proudly presents the TX12 MKII, a class-leading compact radio, with updated ergonomics, hardware, and software.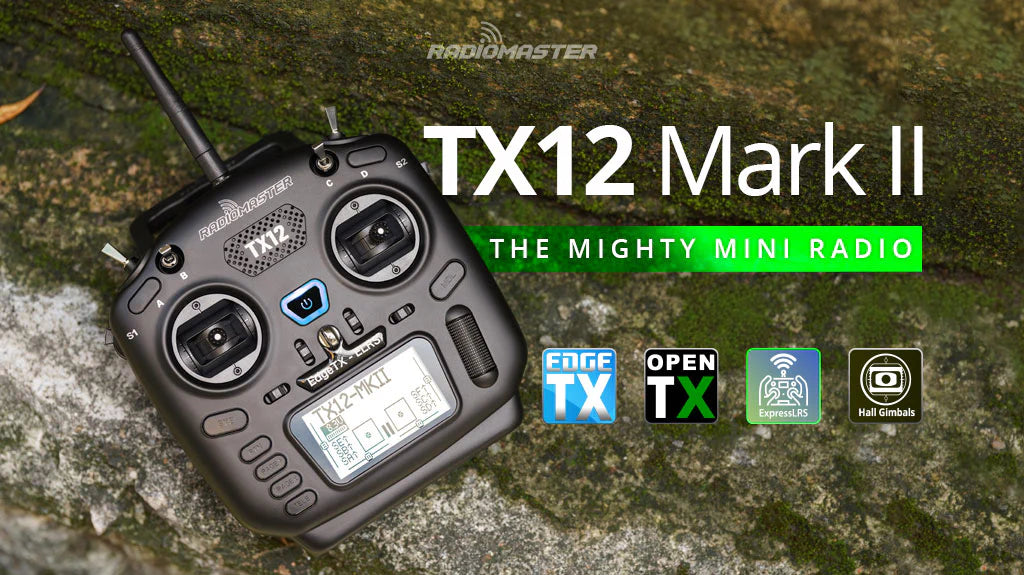 Features:

Added internal ExpressLRS module support
Updated main board design from STM32F207 to STM32F407
Improved USB-C QC 3.0 Charging
Precision hall-effect gimbals as standard
EdgeTX operating system installed from the factory
Updated rear case with comfortable grips
Improved S1 / S2 slider grip
SD Card included
Provide M1 and M2 modes

Specification:

Item: TX12 Mark II Radio
Size: 170*159*108mm
Weight: 363g
Frequency: 2.400GHZ-2.480GHZ
RF Chip: ExpressLRS (ELRS) / CC2500
Working Current: 320mA@8.4V (ELRS) / 180mA@8.4V (CC2500)
Voltage Range: 6.6-8.4v DC
Radio Firmware: EdgeTX (Transmitter) / ExpressLRS (RF module) / MPM (RF module)
Channels: Up to 16 (depending on the receiver)
Display: 128*64 Monochrome LCD display
Gimbal: High precision hall gimbals
External module: JR/FrSKY/Crossfire compatible
Upgrade Method: USB/SD card & EdgeTX Buddy online or EdgeTX Companion PC software
USB Charging: QC3 USB-C
SD Card: Included

EdgeTX Operating System
Preinstalled with EdgeTX, the RadioMaster TX12 MKII has cutting-edge software that is constantly evolving and improving. RadioMaster works closely with the EdgeTX team to develop features and optimize the user experience. We will continue to contribute and support projects like EdgeTX, ensuring the concepts of open standards are carried forward.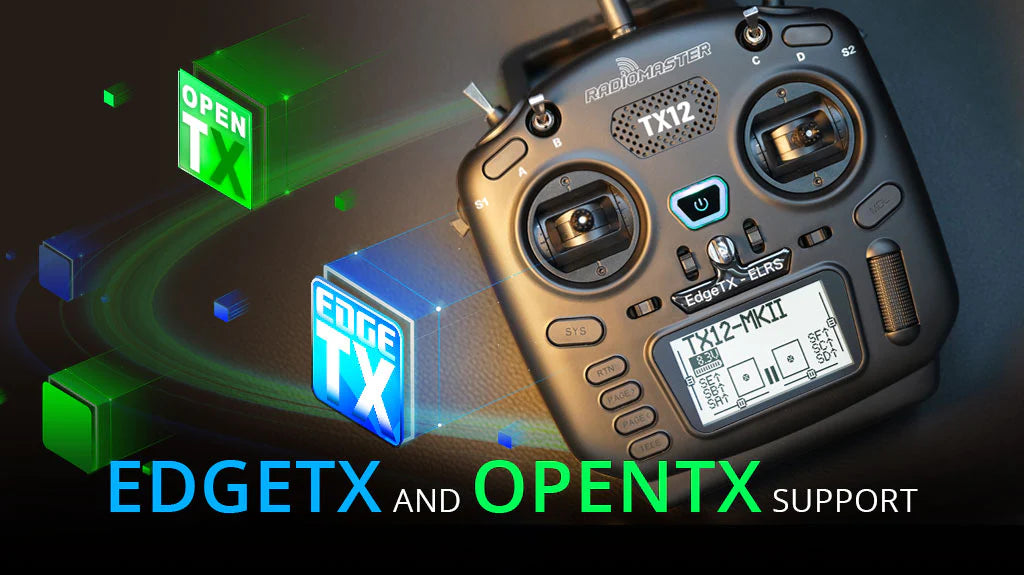 Updated MCU STM32F407

We have upgraded the main processor from STM32F207 to STM32F407.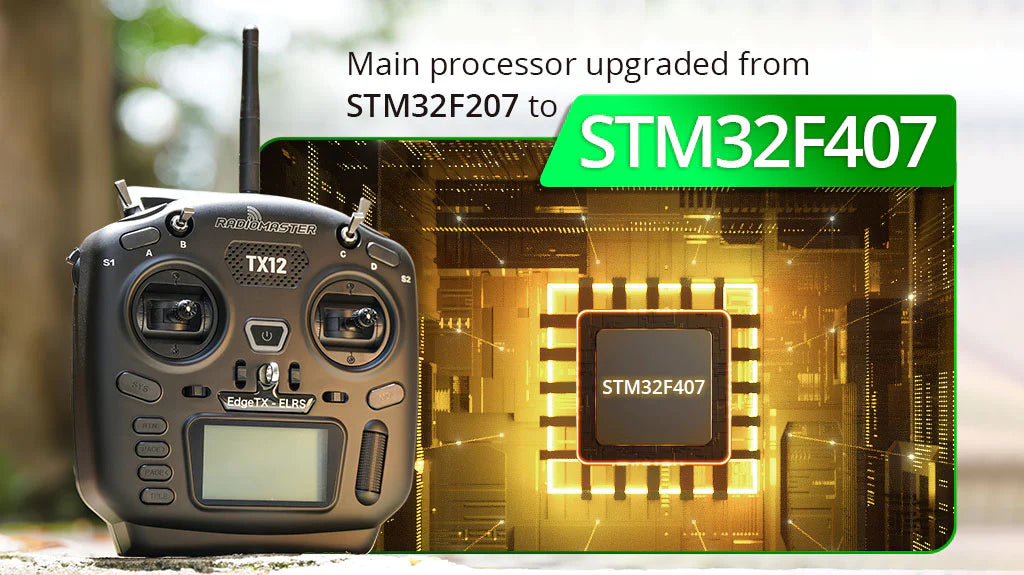 Standard FCC Version

CC2500 (FCC) Version supports all CC2500 protocols
ELRS (FCC) is pre-installed witn ExpressLRS ISM FW (Max power is hardware dependant)

New Hall Gimbals

With Hall Gimbals, the same chipset as the AG01, optimized hall sensor circuitry, improves center point positioning and temperature stability.
Support USB Simulator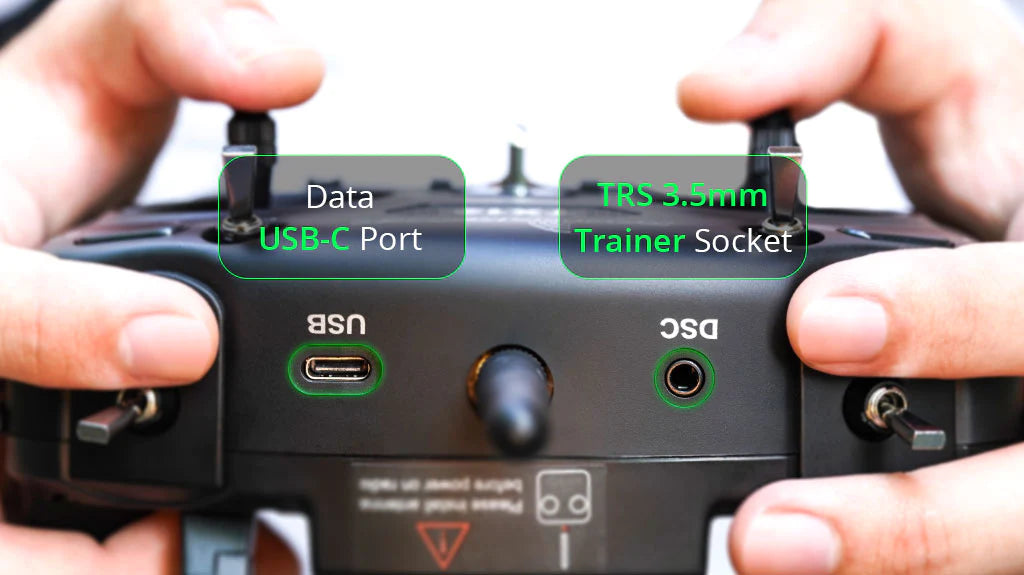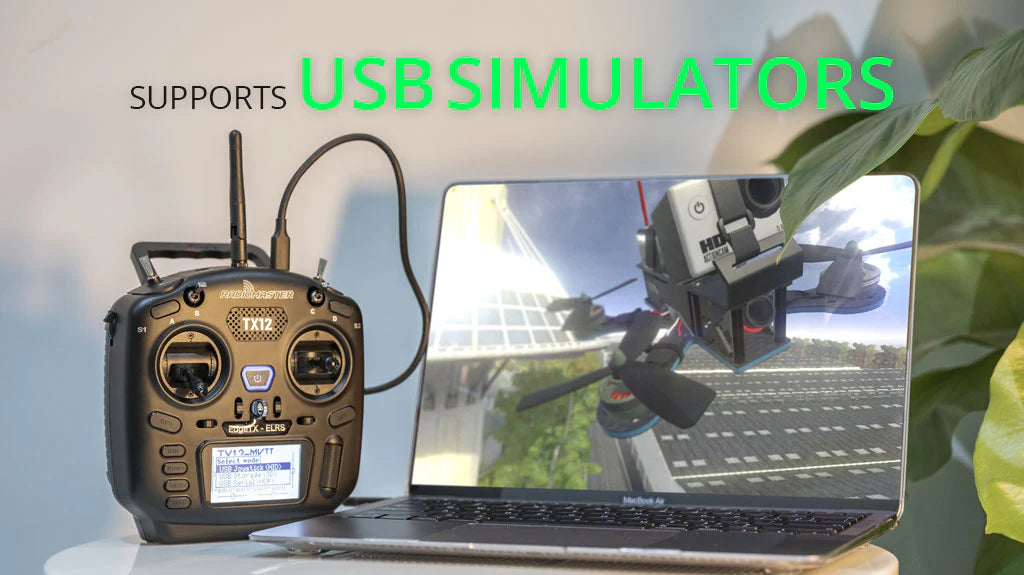 Improved USB-C QC 3.0 Charging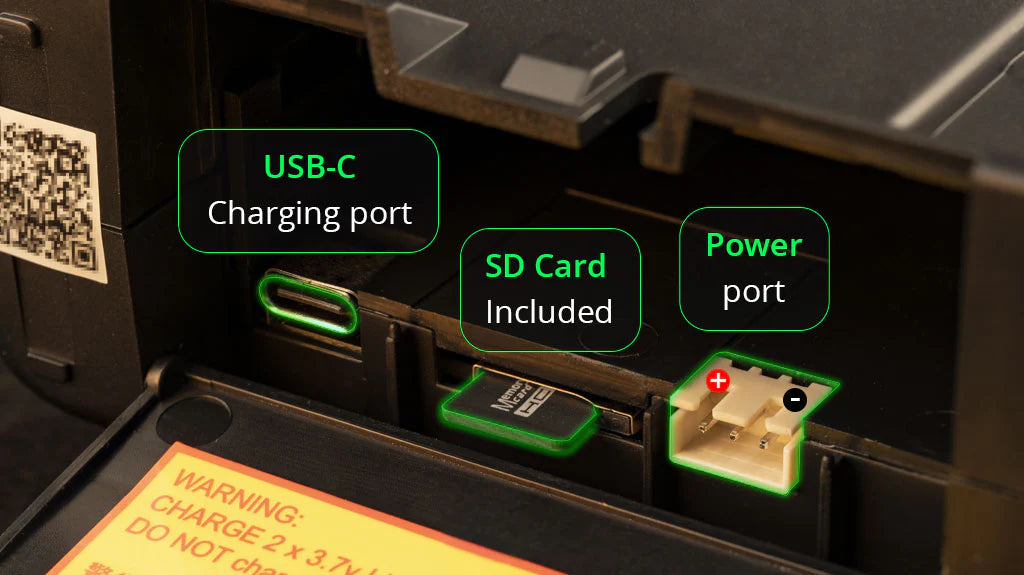 Big Battery Bay
Allows for dual 18650 or dual 21700 Li-ion cells, or 2S Lipo up to 74×60×22mm.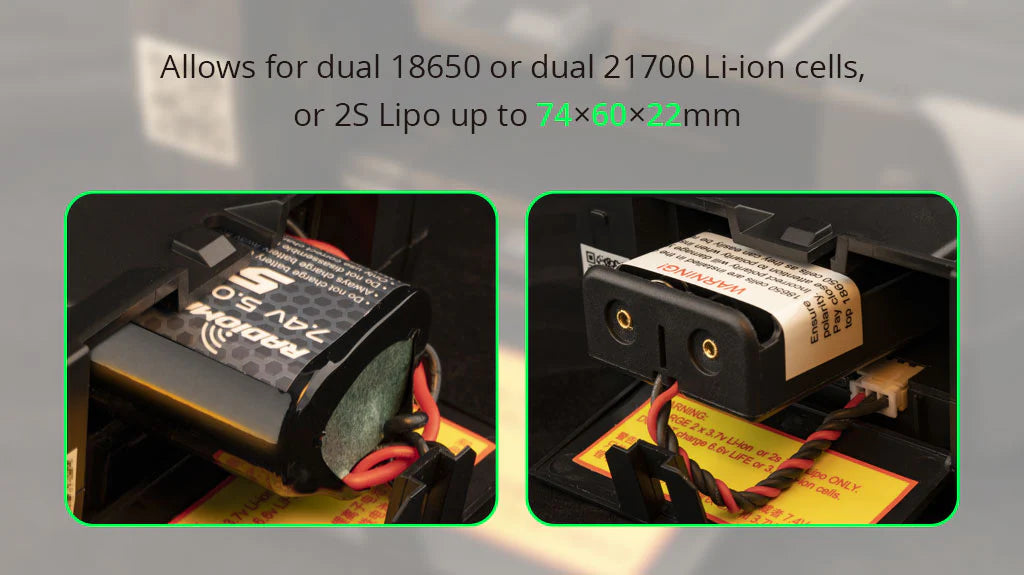 Expresslrs BLE JOYSTICK MODE
Allows for Bluetooth connection to PCs, tablets and phones with BLUETOOTH function to play simulators and games.
* ELRS version only.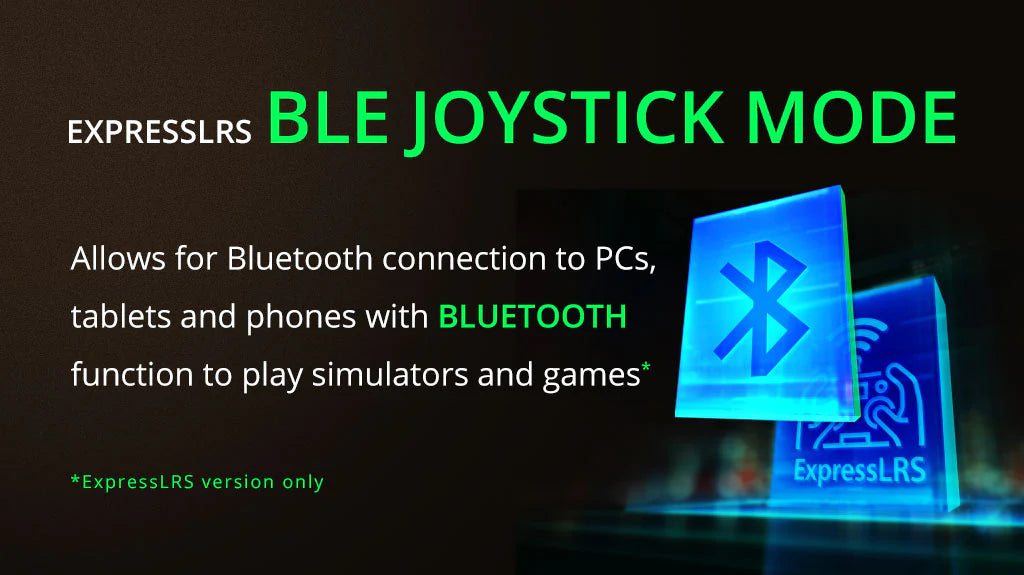 Upgraded Design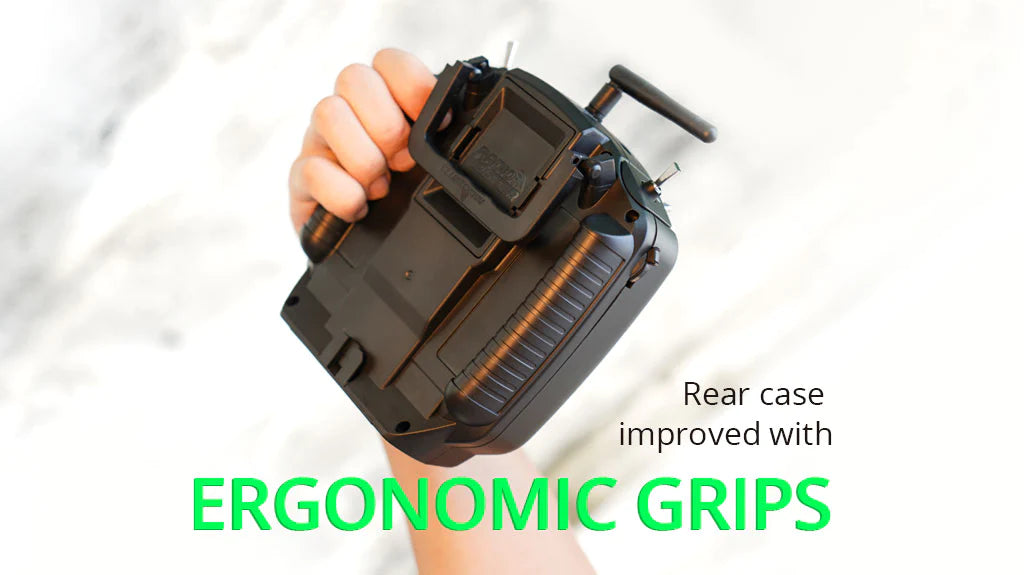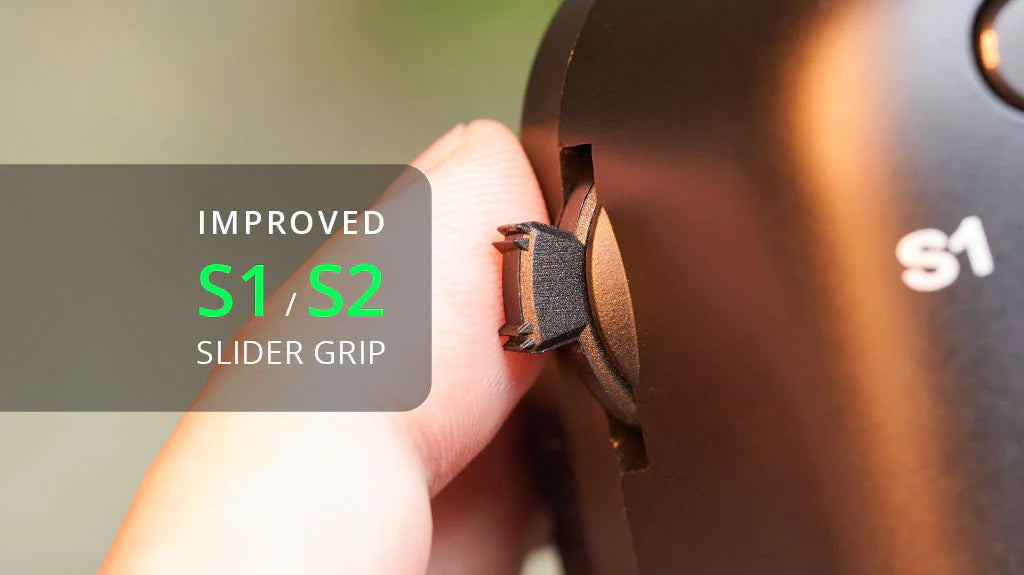 Radio Overview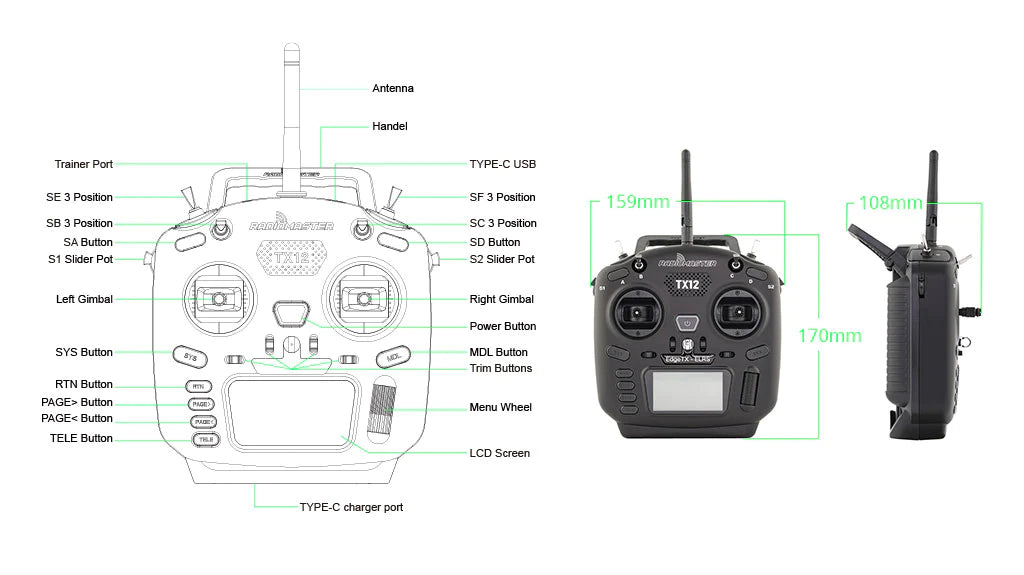 Package Includes

1 * TX12 Mark II Radio Controller
1 * Antenna
1 * USB-C Cable
1 * Quick Start Guide
1 * Sticker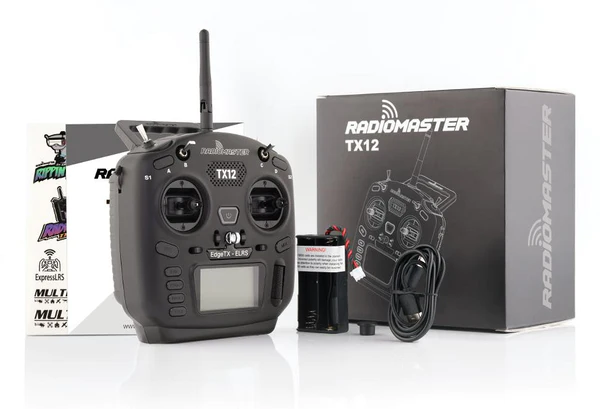 Payment Methods
We accept PayPal, Credit Card. If you are unable to pay for the above, please contact us.
Order Status
Once your order ships, you will receive a shipping notification email. This email will contain your tracking number and a link to check the status of your order. You can also check the status of your order by going to your account page.
Warehouse located
We have CN, USA and EU warehouse. 
Shipping Charges
There are different shipping methods for your chioce, depending on yourself. Detailed shipping costs and chioces can be checked at the checkout page.

Free shipping on orders over $99. If your order value is under $99, you might be charged $10 for standard shipping(arrives in 7-15 days), or other shipping methods.

For Fix Wing RC FPV fixed wings product, we provide different shipping fee for Expedited shipping(arrives in 10-20 days). The specific shipping cost is subject to the checkout page.

For all orders' package, we handle packages by DHL, UPS, EMS, our special shipping line and so on, usually takes about 7-20 days for delivery.
Shipping Time
Most orders will be shipped within usually 1~2 working days , but for special holidays, 4 business days might be needed.
The total processing time may be affected by the stock status of individual items, national holidays, etc.
For all orders' package, we handle packages by DHL, UPS, EMS, our special shipping line and so on, usually takes about 7-20 days for delivery.
*Please note that we only process orders on business days (Monday-Friday).

*Total Delivery Time=Processing Time+ Shipping Time

Once we receive your online order we will send you a confirmation e-mail and you will receive a tracking number once the order has been shipped and is on it's way to you.
If you have any questions about any orders in transit, please feel free to contact us. We care about you so much and we're doing our best to catch up!

Please Note:
Orders placed on Friday Afternoons, during weekends or National Holidays will be processed the next business day.
During holiday periods, such as Thanksgiving, Black Friday and Cyber Monday, Christmas, and Easter, orders may be subject to delay.
Please allow a few additional business days for your order to be processed and dispatched.
There are estimated delivery time only, so can not guarantee an exact delivery time.
Thanks for understanding and have excellent shopping with ATOMRC!