8$ off for your first order, code: first
No result found for your search.
SKYZONEFPV
SKYZONE SKY04L LCOS 1280X960 FPV Goggles with steadyview receiver
Available:
Only 92 items in stock
92 items in stock
In stock
Out of stock
Back in stock
Description
Shipping
Reviews
Skyzone 1280X960 LCOS 5.8GHz 48CH FPV V2 Goggles with V3.3 Steadyview Receiver. SKY04L V2 is the First skyzone LCOS goggle with focus adjustment and analog, the 04l 1280*960 high-resolution screen has vivid color and high contrast ratio, so the pilot can see more details in the racing. SKYZONE 04l V2 comes with 60fps dvr and have the v2 dvr board.

With Steadyview receiver, the receiver merges two signals into one, avoiding image tearing and rolling, making the image more stable and clear in challenging conditions.

The new SKYZONE SKY04l designed optics have a focus adjustment feature and 37 degrees Field of view, giving pilots a more immersive FPV experience.

With the new 04l OS with 10 languages to set select, the pilot has no trouble with the menu system, and with the shuttle wheel and new user interface, the pilot can set all the settings just by rolling the wheel without taking off the goggles.

SKY04l could power up by a power bank through the usb c port, but you must use USB a to c cable.
Features:
--SteadyView receiver merges two signal to one, make image more stable and clear in challenging condition.
--Module bay, goggles have more capability to upgrade.
--Focus Adjustmentm, The new Optics have large Field of View (37 degree). and the Optics have Focus adjustment feature (-6~+6), no need diopter any more.
--LCOS Screen, The 1280*960 screen have high resolution and vivid color, high contrast ration, pilots can see more details.
--Advanced Screen Settings, The aspect ration can is switchable, and 4 Preset screen setting and 3 customized setting for indoor, outdoor flight or different weather.
--Shuttle Wheel Control, No more confusing multi function button or 5 way Joy stick, with smooth and nature shuttle control, easy to navigate.
--New User Interface with 10 languages, New UI with shuttle wheel, easy to navigate, 10 languages to choose for local user.
--Built-in DVR
Specifications:
Screen: LCOS
Resolution: 1280X960
FOV (Diagonal): 37°
Aspect Ratio: 4:3/16:9
Focus: -6~+6 adjustable
Interpupillary distance(IPD): 58-71mm
Receiver: 5.8Ghz 48CH Steadyview Receiver
Language: 10 Language
Power Supply: DC6.5-25.2V/USB5V
Power Consumption: 720mAat12V
DVR: H264, 60fps, MOV6Mbps, SD Card support up to128Gb
Head Tracker: 3-axis Accelerometer, 3-axisgyroscope
Dimensions: 185*75*67mm
Weight: 267g
Package Included:
1x SKY04L V2 Goggles
1x V3.3 Steadyview Receiver Module
2x Faceplate (wide and narrow)
1x Sponge with velcro
1x Zipper case
1x Power cable
1x Headtracker cable
2x 5.8GHz 2dB antennas
1x Video/Audio Cable
1x USB-C Cable
1x Uer Manual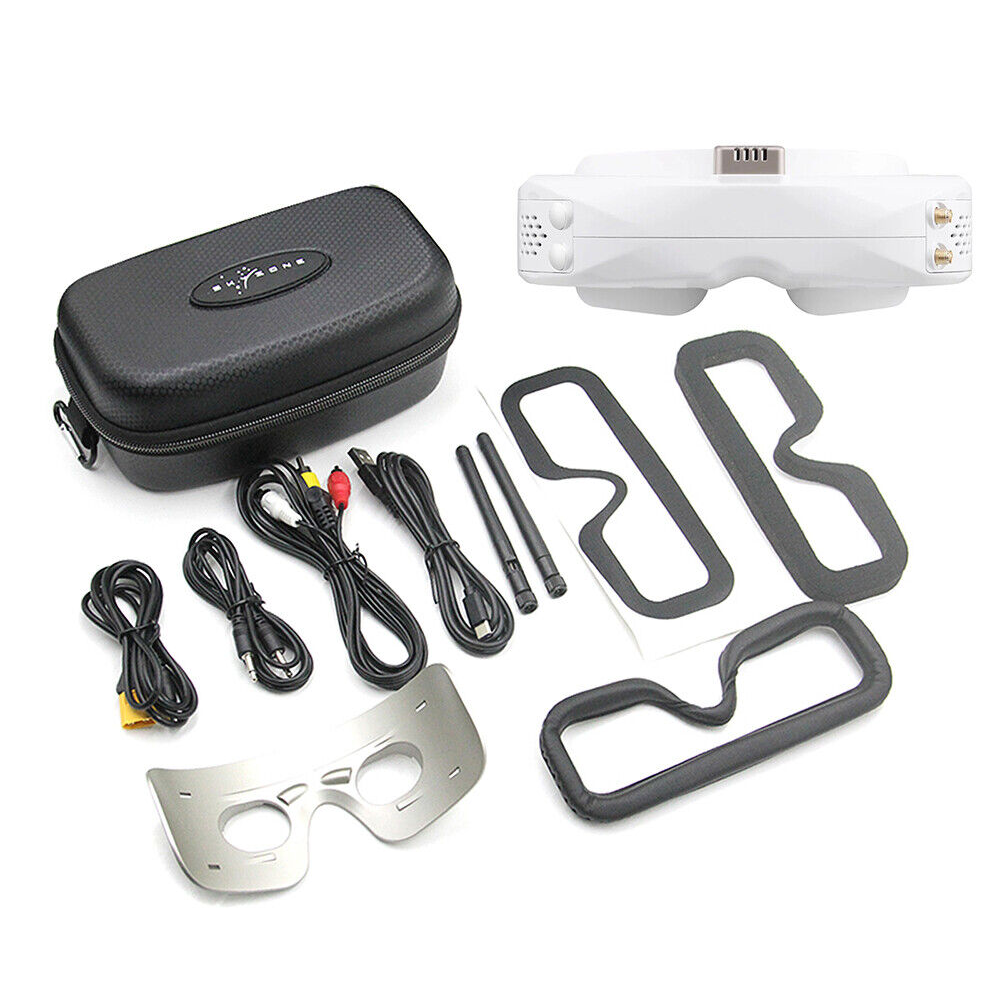 Quick Start Guide:
1.Install the antenna and faceplate.
2.Use power cables to connect battery to the goggles, goggles can power by 2~6cell lipo battery, hold the power button to turn on.
3.Focus adjustment: move the focus adjustment wheel to focus, close one eye to adjust the focus, you can pop up the OSD menu as the template, when the image is clear, repeat the process with the other eye.
4.IPD adjustment: move the IPD slider until there is no double vision of the image.
Payment Methods
We accept PayPal and Credit Card now, 2 payment methods.
Order Status
Once your order ships, you will receive a shipping notification email. This email will contain your tracking number and a link to check the status of your order. You can also check the status of your order by going to your account page.
Warehouse located
We have CN, USA and EU warehouse. 
Shipping Charges
There are different shipping methods for your chioce, depending on yourself. Detailed shipping costs and chioces can be checked at the checkout page.
Free shipping on orders over $99.
If your order vaule is under $99, you might be charged $10 for standard shipping(arrives in 12-25 days), or $30 for Expedited shipping(arrives in 7-15 days), but not included the Fix Wing collection.
For Fix Wing RC FPV fixed wings product, we provide different shipping fee for Expedited shipping(arrives in 10-20 days). The specific shipping cost is subject to the checkout page.

For all orders' package, we handle packages by DHL, UPS, EMS, our special shipping line and so on, usually takes about 7-20 days for delivery.
Shipping Time
Most orders will be shipped within usually 1~2 working days , but for special holidays, 4 business days might be needed.
The total processing time may be affected by the stock status of individual items, national holidays, etc.
For all orders' package, we handle packages by DHL, UPS, EMS, our special shipping line and so on, usually takes about 7-20 days for delivery.
*Please note that we only process orders on business days (Monday-Friday).

*Total Delivery Time=Processing Time+ Shipping Time

Once we receive your online order we will send you a confirmation e-mail and you will receive a tracking number once the order has been shipped and is on it's way to you.
If you have any questions about any orders in transit, please feel free to contact us. We care about you so much and we're doing our best to catch up!

Please Note:
Orders placed on Friday Afternoons, during weekends or National Holidays will be processed the next business day.
During holiday periods, such as Thanksgiving, Black Friday and Cyber Monday, Christmas, and Easter, orders may be subject to delay.
Please allow a few additional business days for your order to be processed and dispatched.
Thanks for understanding!